I live in VB and normally I would be glad to take you out on my catamaran. We are taking a 10 day sail for spring break March 30-April 8 from Virginia Beach down through NC and I am leaving the boat on the ICW at the end though. Generally at least part of the week is beautiful that time of year.
I don't think there are any/many small bout tour operators. I think the best bet for a private captain would be posting a request on the local craigslist with what you are looking for.
The only commercial sailing that I know of is the American Rover in Norfolk and the Schooner in Alliance in Yorktown.
https://www.americanrover.com/
Sail Nauticus rents Harbour 20 sailboats in the evenings/weekends with and without an instructor. They are always zipping around.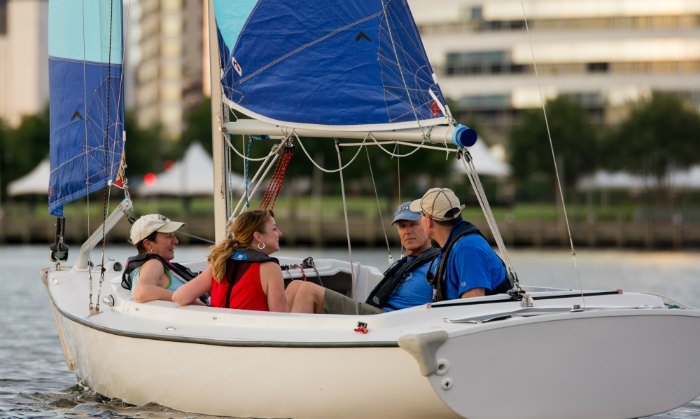 https://sailnauticus.org/
There are also the larger tour boats that run with about 50-100 people out of Norfolk, Hampton, The Lynnhaven Inlet in VB for the bay and rudee inlet for the ocean. They do military base tours to see the ships or dolphin tours.
The olde town portsmouth water taxi is small boat that runs around and seems to cater to what people ask, I have seen it in some odd places. They may do small custom tours.
https://oldetowneportsmouth.com/listing ... ater-taxi/
Cheapest date is the $2 Elizabeth River Ferry every 30 minutes that crosses from Norfolk to Portsmouth. There are nice historic houses/walking tour and good restaurants on the Portsmouth side.