whgoffrn wrote:.... I guess now that's my question is if once I get to the abacos if I will be disappointed because it's not nearly as beautiful as the exumas and pretty similar to the keys or if it will be just as stunning as the exumas... I think with nippers pig island and a couple of the other things my kids would find the abacos entertaining enough ..... are the beaches, (are there any grottos??) Is water and overall beauty of the abacos equally as beautiful as the exumas?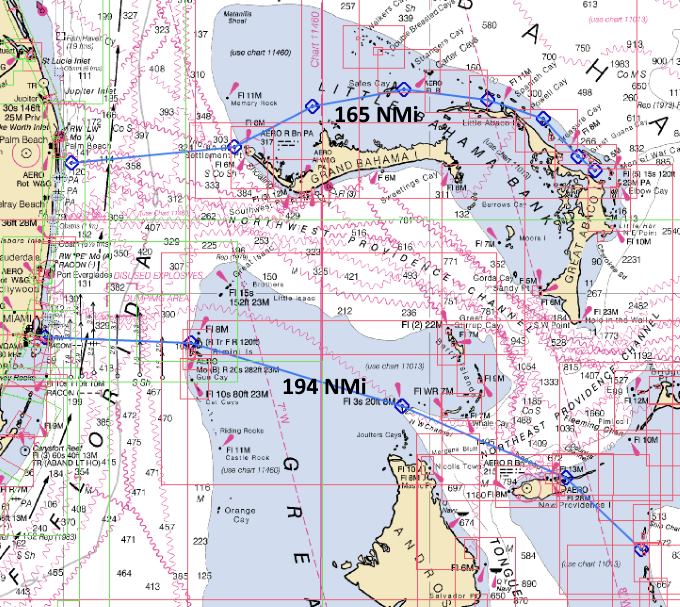 I don't see where there is that much difference in distance between the two, but as Mike said more open crossings going to the Exumas, but getting from West End east is also a lot of open water where you won't see much in the way of land. I did most of that going from Fox Town west to West End. I also agree with him in that you don't want to have to sit at West End. Most people that I've read their trip reports cruising to the Abacos end up at Marsh Harbour (the end of the route shown above). They then sit there during the winter months. Now if you went to the islands a ways north of Grand Bahama that would make the trip much shorter. Google those islands/cays for pictures and info. Someone on here went to them a few years ago, but you don't see much about them. I looked once and they did look interesting as far as beauty.
The route I showed to the Exumas just gets you to the northern Exumas but from there 30 miles or so south is some really pretty cays and the iguanas and pigs and the James Bond grotto. There again most that go for the winter end up in Georgetown a fair ways south and sit the winter out there.
As far as the Keys vs. the Abacos, I haven't seen anyplace in the Keys that is as nice looking in regards to scenery as any place you will go in the Bahamas, but that is my view. If the kids like that it is a big plus. If they want to be connected on cell phones and like activities with lots of other people around then the Keys are going to win.
Sumner
========================================================
1300 miles to the Bahamas and back -- 2015
The MacGregor 26-S
The Endeavour 37
Trips to Utah, Wyoming, Idaho, Canada, Florida
Mac-Venture Links