This is still a work in progress, but thought it might be of interest to others...
When purchased, the cover of our Evinrude 50 had a large hole in the top cover. (There was even a wasp nest in there, one of about 50 in our rig.
)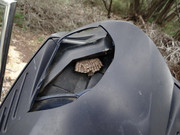 I was able to find some of the pieces and, after working out the jigsaw puzzle, glued them back together with primer and superglue specific for PBT plastic.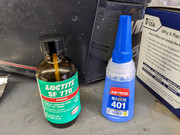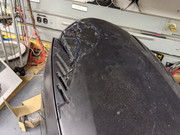 Then filled the missing gaps with plastic epoxy, generously applied to avoid any low spots.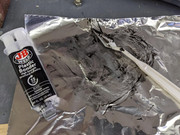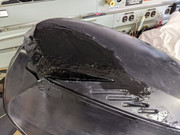 Sanded it down to smooth using 120, 240, 360 grit (dry). Didn't go any finer than that as I want to have something for the spray paint to adhere to.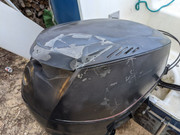 Next steps:
mask off the 1 remaining decal
spray a couple coats of primer/gap sealer (sanding in between)
spray with matched Evinrude color
either print or vinyl cut some new decals? (honestly not really a priority for me)
wax and polish
Will post pics from next steps as the project continues.
There were a few cracks and broken bolts in the lower 2 cover halves that I also repaired and plan to paint. Just didn't show them here.