The NEW MacgregorSailors Map is active. If you are logged in, it will appear on the top bar next to quick links. It's only visible to registered and logged in members.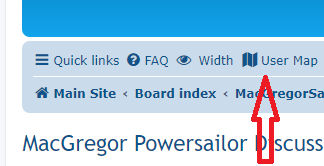 To have your location pinned on the map, go to your user profile and add your postal code and country.
While there fill out anything else you wish to share like boat type that might help other members.
Link to your profile
ucp.php?i=ucp_profile&mode=profile_info