rsvpasap

wrote:

↑

Fri Jan 27, 2023 9:04 am

I would cut the ends of the lines off flush and use a Speedy Sticker to sew them together so they can pass through the blocks with no problems. The wax coated twine that comes in the package with the Speedy Stitcher is more than strong enough for this job. Alternatively, you could use sail thread.
Good advice. Achieved success with this technique yesterday on the main halyard. Will follow through with the jib next week. I used the sail twine with a dull needle so none of the strands would be cut and the twine would just go through the spaces the needle creates. The black is old and the white is new.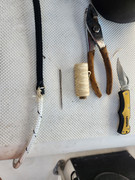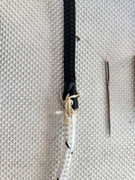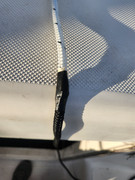 Then I taped the joint with Gorilla tape to strengthen the joint and did one wrap or electrical tape at the leading edge for smoothness going through the blocks. I used the deck blocks for cabin control of halyards as my test blocks for the system.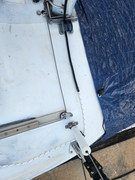 Lastly after the joint had successfully transited both deck blocks, I hoisted the main halyard all the way up. It went right through the mast head block and down to my hand.