By the way NEWELL !!
there was this older gentleman that sailed with your San Diego friends who owned an X boat and i think he was like one of the number one experts on that boat - I can't remember his name - I think it was MURV or Marv or something like that? Murv Berry or Marv Berry - anyways, he was VERY knowledgeable on the X boat - he was older and I think he passed a few years back but he made a video on raising the mast on the X boat that was the most excellent MRS system ever for the X boat. Are you aware of him or that video? I am trying to find that video to show it to Jimmy T on this site in another post to help him with his MRS mods. I want Tomfoolery to see it too. - Have you seen it?
Yes, just saw this several months ago. Can't find it now, but will ask on VYC fb page and see if I can find it.
Murv, was a model yachtsman to me. I emulated many of him modifications .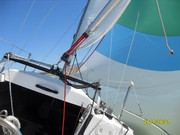 Couldn't find my favorite picture of Murv and I racing our spinnakers, on a light wind day on Lake Mead.