Guess I should finally poke my nose up out of the woodwork, or simulated woodgrain as the case may be. Realized I'd been registered since 2015 and hadn't really engaged the forum beyond lurking in the bilge. So here we go:
2012 M, Blue. Purchased in 2014 and considered naming "Buick" since it had pretty much become a land yacht due to the hassles of the yard in the marina I was keeping it in. Moved to a new house with actual room to keep it home (a stipulation of any property we looked at) and there were always excuses for not hitching it up and dropping the ol' tub it the water. Underpowered 93 Cherokee mostly... Finally bit the bullet last year and slipped it, and got in more sailing in 5 months than the previous 5 years.
So now that I've gotten it out there, broke a few things, and learned that some bits weren't set up correctly by the dealer, I can perhaps be a productive member of the community...or at least a source of dumb questions!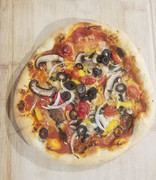 Proper etiquette, of course.