So I have limited to no experience sailing, a coworker got me all into it and after 2 years of saving and planning I bought a 26x in a pretty decent condition. I was hoping it wouldn't be a project boat and I could take it out immediately, but of course nothing is ever easy. I bought it from a old couple who hadn't sailed it in years just used it for the outboard.
My coworker came out and showed me how to set up the mast and rigging, and unroll the sales. When we set up the rudder there appeared to be missing parts. And also I can't find a good picture on what it's suppose to look like. If someone can post that, I'd be great.
I have the rudders,rudder brackets, and a single piece that looks like it attaches in the same way the OB is currently connected.
Also I contacted the owners and they sent me images of some pictures that tomorrow I'll drive round trip 10 hours for. But I have no idea where they go.
Lastly I have a piece that looks like it's part of the boat but not sure where it goes or if it's part of steering. Any help, links or pictures would be appreciated.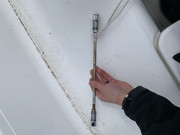 A link but not positive what it connects to.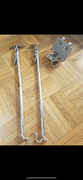 Pieces from old owners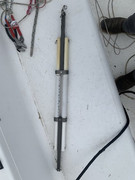 Unidentified piece