Cool new forum Russ....Does pdf work here, let me try to post a cruise log...its 23 pages but most of that is pics.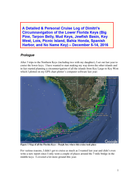 Fyi, the OWB marina I used to launch from in Dec 2016 was completely taken out (2 story building turned into match sticks) by Hurricane Irma the following year which is why I skipped going to the Keys in 2017. And in 2018, I finally made it to Boca Grande Key too. Love cruising the Keys!
On Edit - I see the photo hoster converts the first page of the pdf to an image file. I used to have this pdf (and several more cruise logs) hosted on yahoo group but they disabled that capability last year. Let me try the 'Attachments' option and see if that works.