Hi All
In preparation for our anticipated cruising aboard our Mac26X the Admiral and I decided we needed to organize our storage needs.
Below is the "General Layout" of our storage bins in the aft berth: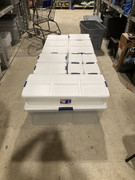 We used the Hefty Brand clear(ish) sided storage bin product family from Lowe's Hardware.
I may not be perfect but It's a lot better than the hodge-lodge we had before!
There is still room to tweak…..
Though as the Admiral has pointed out it is still a bit like playing Tetris
The clear(ish) sides do make the identification of contents a breeze though!
The layout only uses less than 2/3 of the floor space in the aft berth area generally. That was at a "two" level arrangement. Take's up more space if we spread them out of course.
This will still allow us to pack the inflatable dingy for when we get to the explorations of the ICW in the future.
We've made several reorganization's based upon what we've found to access more often or not and for weight distribution. Our boat hook is a great tool for pulling and pushing the bins around in the aft berth. When doing any major dig backs we set the dinette table down and put the cushions in the Vee berth. Every box can fit on this surface and still give us access to the galley, head, Vee berth, electrical controls, batteries, charger and companionway to the cockpit.
The unitary sizes offered by the Hefty product family have made this a lot easier than it would have 'bin' otherwise. (Pun intended
)
Best Regards,
Over Easy