Hi all,
We bought our 2005
at auction a year ago. Got a great price but it does seem like the PO bought it, sailed a couple seasons, and then let it sit out in the elements for a decade.
Case in point is the 2005 Evinrude E-TEC 50HP outboard on it. On the outside it is very weathered but the inside looks factory new. Runs like a top but the outer plastics are dull and brittle. With the help of good advice here, I was able to patch repair the top cover which had been broken.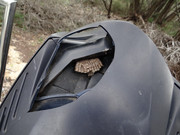 viewtopic.php?f=9&t=28711
Later, the side covers also shattered one day while towing and we were not able to find the missing pieces. As a temporary fix, I have applied a liberal dose of heavy duty, wide duct tape. Used some left-over Evinrude blue paint to make it not so obvious. Ugly as sin, but the motor still runs great and does what we need.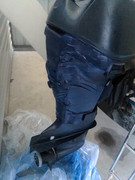 I've looked and it would cost $1100 to replace both of the sides. Also looked on Ebay and elsewhere for used, but the prices aren't much better and don't come with any guarantees. Don't know if that would be similar for a more current motor or if we are looking at premium prices for our out-of-production motor.
Anyway, cheapo that I am, I'm looking at having a custom cloth motor cover made that will hide the ugliness and just ignoring the broken plastics. (Was quoted $225 for a "mooring cover" from Australian outfit
https://outboardcovers.com/
).
Anyway, I thought I would appeal for a "sanity check" from those with much greater experience and knowledge. Are we nuts? Would it be wise to invest $1100+ on essentially cosmetic parts of such an old motor? Better ideas?
(I love that MacGregorSailers is such a kind and helpful place, but don't be afraid to hurt our feelings... I've certainly gone off the deep end on several occasions before. Better to be talked down from a ledge before I jump off without a chute.)